By Bill Roberts
CANADIAN ARTIST GINALINA'S album Small but Mighty, a three-time Juno nominee and four-time Canadian Folk Music nominee, speaks to potential, to making the world a better place for all, to diversity, to inspiring the young and creative…
These same themes run through Cartt.ca's latest podcast, featuring Joy Loewen (pictured below), president and CEO of the acclaimed National Screen Institute (NSI) based in Winnipeg – "the centre of North America".
Loewen's "small but mighty" NSI work and partnerships have inspired over 1,000 gifted Canadian storytellers and creators on all imaginable platforms, including film, television, digital and yes, even TikTok!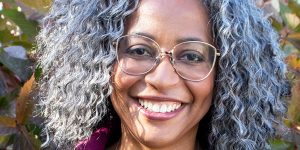 Hear Loewen talk about key NSI programs and projects such as NSI IndigiDocs, Totally Television, Business Management, Series Incubator, On-Demand Access, Digital Marketing, and yup… the TikTok Accelerator for Indigenous Creators; catch-up on some NSI alumni and their award-winning successes; plus, how this amazing not-for-profit successfully adapted and pivoted (even thrived!) during our Covid-19 pandemic.
With strong views on Bill C-11 the Online Streaming Act; on the need for coordination among diversity festivals, screen offices, and training organizations; on giving voice to Indigenous and marginalized creators, and on such matters as the re-branding/re-naming initiative at Ryerson University – this community advocate and champion has much to share.
With an annual budget just shy of $2 million, this is an entity thinking big and looking at quadrupling its impact capacity and resources within the next five years.
And this leader has her eyes set on a "build back better" contribution that reaches beyond our pre-pandemic $14 billion domestic product and 130,000 jobs numbers!
From roots in rural Steinback, Manitoba, plus a stellar career as a broadcast and festival programmer, now at the helm of this "small but mighty" change-maker, Joy Loewen has an amazing and compelling story to share.
Listen in and be inspired!
Image borrowed from the National Screen Institute's website.
Bill Roberts is a contributing editor at Cartt.ca.