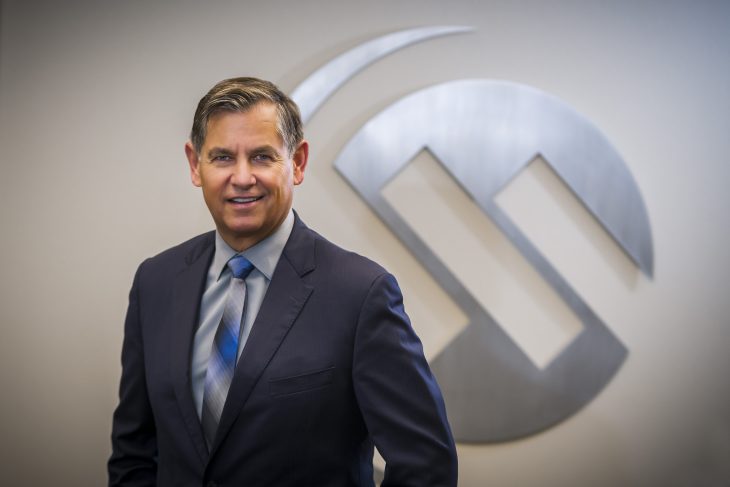 Has also been a "pillar" of the CCSA board, chairperson says
By Amanda Oye
BRANDON, Man. – Westman Communications Group's board of directors announced yesterday its president and CEO Dave Baxter (above) is retiring effective March 2022.
"The Board of Directors would like to thank Dave for his dedication and commitment to growing the Cooperative over the last 26 years and wish him our very best on his well-deserved transition into retirement," said Westman board chairperson, Jason Roblin, in the press release.
"Westman has grown to be an employer of choice for many people in Manitoba, accomplished through Dave's leadership and vision for what Westman is as a cooperative and service provider in the area."
Baxter has been with Westman, a member-owned cooperative operating broadband systems across Manitoba, for 26 years and has been president and CEO since 1998. In that time, he saw the industry go through tremendous changes, which he successfully led the company through.
"When I started in 1995, certainly there was a lot of people that thought it was crazy to go into this industry, especially with a smaller company," Baxter said in an interview with Cartt.ca.
At the time, direct-to-home satellite was recently launched, "and they were referred to as the death stars and were going to be the end of the cable TV business," he explained.
Furthermore, Baxter recalls hearing Ted Rogers talk about the industry's future at a CCTA conference around the same time. "Not much had been developed at the time," Baxter said, but Rogers predicted high-speed Internet was going to be a big part of the industry's future.
"It was something I was excited about even though people were saying I was crazy to join the industry."
Westman launched high-speed Internet early in 1998.
"We really had no idea at the time how popular it was going to be, but being quick to the market was important," Baxter said.
The transition to high-speed Internet was one of the biggest transitions Westman had to make during Baxter's time at the company. "Especially transitioning early to offer high-speed Internet," he said. "Culturally, we weren't really prepared for that transition."
The pace of change in the industry to that point was modest – "every year or so we'd had another cable signal or so," he said. But when high-speed Internet came, Baxter set up a completely separate group of people to launch it.
"It in essence was kind of an edge of the wedge into culture change, you know, recognizing that this was an industry that was going to be undergoing a lot of change and gradually the rest of the organization followed suit and change became, I'd almost say embraced in our culture."
The company has been innovative and prioritized being an early adopter of new technology under Baxter's leadership beyond with high-speed Internet. Westman transitioned to digital TV early as well, Baxter said, "which made us more competitive and conserved a lot of our bandwidth for broadband."
Additionally, the company launched voice services in 2008 at which point "we actually deployed our own switch, which was very unusual except for the very largest cable companies," he said. "By deploying our own switch, it gave us a lot more flexibility."
Westman has been "fortunate to have a consistently strong leadership team over the years and we've created a culture that's embraced change and we have a very dedicated and committed staff… I'm very proud of the team that I've had and… the things that we've achieved."
Baxter also mentioned the Canadian Communications Systems Alliance (CCSA) as an important part of the business.
"As a buying group and a regulatory and advocacy voice, that's certainly been valuable for our organization," he said.
Baxter is currently a CCSA board member.
"Dave had a very long history with CCSA and contributed enormously to the organization over the years, representing Westman and serving on the CCSA Board," said Jay Thomson, CCSA CEO, in an email to Cartt.ca.
"He was CCSA's chair when I joined in 2017 and was of great help as I transitioned to the new role. All of us wish him well in his retirement."
CCSA chairperson Donna Robertson told Cartt.ca: Baxter has always been very "inclusive and willing to listen." He has also brought "a great deal of financial expertise" as well as "a very wide knowledge of the industry" to the board.
"He is knowledgeable, calm, he has always in my estimation been very forward looking, he understands the industry very well," she said.
"He is definitely a pillar of the board, CCSA will miss him very much."
Baxter is also a board member with Manitoba Blue Cross and the Manitoba Cooperative Association, the press release announcing his retirement says. He is also a member of the Business Council of Manitoba.
Previously, he "served as a Board Member with the Brandon Chamber of Commerce, the Canadian Association of Broadcasters CEO Radio Council, and the Canadian Cable Television Association," the press release says.
In 2010, in recognition of his business achievements and contributions to the community, he received the Brandon Chamber of Commerce Business Person of the Year award.
Through his work, Baxter has had an undeniable impact on Canadian telecom, the community of Brandon and even Cartt.ca.
"Dave has been such an important leader in the telecom industry, not to mention in Brandon, for so long," said Cartt.ca's publisher and founder, Greg O'Brien.
"I know he was a guy other independent operators turned to for guidance when needed – and he often took time out to explain to me just how things worked, which made our stories better. I am sorry to see him go!"
The feeling is mutual.
Baxter noted how much he values the relationships he has developed over the years and appreciates how people in the industry have been very generous with exchanging information.
"It wasn't easy to decide to retire," he said, while also explaining he has "a pent-up desire to travel."
Photo supplied by Westman.