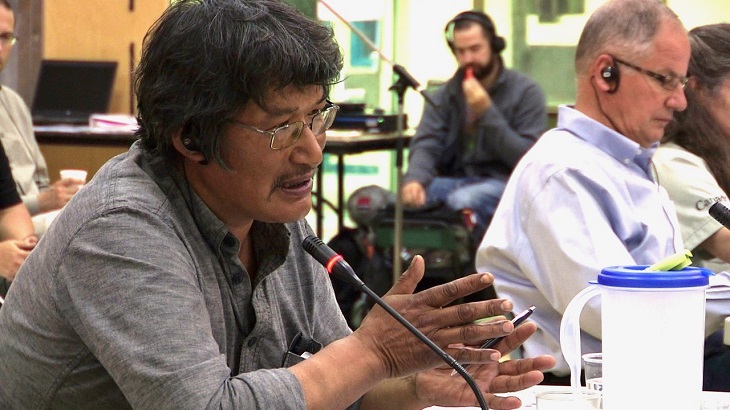 Uvagut TV restricted from rebroadcasting Baffinland mine hearing sessions
IGLOOLIK, Nunavut — Uvagut TV, Canada's first all-Inuit-language TV channel, has been ordered by the Nunavut Impact Review Board (NIRB) not to rebroadcast a public hearing on Baffinland Iron Mine's Mary River Phase 2 development proposal, according to a letter shared today with Cartt.ca by Nunavut Independent Television Network (NITV), one of the channel's backers.
Uvagut TV launched January 18 and two days later announced it would broadcast live coverage of the Baffinland mine hearing.
From January 25 to February 6, Uvagut TV broadcast the NIRB's environmental hearing live from Pond Inlet (located in northern Baffin Island) via satellite and cable TV.
With the public hearing set to resume today and run until April 25, NITV made a request on March 23 asking for the NIRB's permission to allow Uvagut TV to repeat broadcasts of the January-February hearing during evening and overnight hours so more Inuit could be better informed about the previous hearing sessions. Uvagut TV says it received many requests to rebroadcast the live daytime sessions after working hours, before the public hearing resumed on April 12.
According to the open letter shared today with Cartt.ca, the NITV board of directors has agreed to obey NIRB's April 6 order not to rebroadcast the hearing.
However, NITV board member Zacharias Kunuk (above), expressed his disappointment in the NIRB's decision.
"We know we are being censored. We want to find out who is censoring us," says Kunuk, in the letter. "It's not the Inuit way to be confrontational."
Uvagut TV wants to not only broadcast live the NIRB's April public hearing, but also to rebroadcast footage of the sessions at times more convenient for many community members who have daytime commitments. In asking for advance permission, Uvagut TV says only intervenors and other community participants who consent to be rebroadcast will be included in any repeat broadcasts.
"NITV also asks for advance permission for Uvagut TV to retransmit in Igloolik by DVD, hard drive projection or other technical means, the eight formal interventions broadcast live February 5-6, 2021 by the eight intervenors who already consented to NITV's March 23 proposal to rebroadcast them," reads NITV's letter.
NITV has made available here three previous letters addressed to the NIRB, documenting requests to have broadcasts of the public hearings repeated on Uvagut TV.
(Pictured is Zacharias Kunuk speaking at the July 2012 Nunavut Impact Review Board public hearing in Igloolik. Photo courtesy of Isuma Distribution International Ltd.)