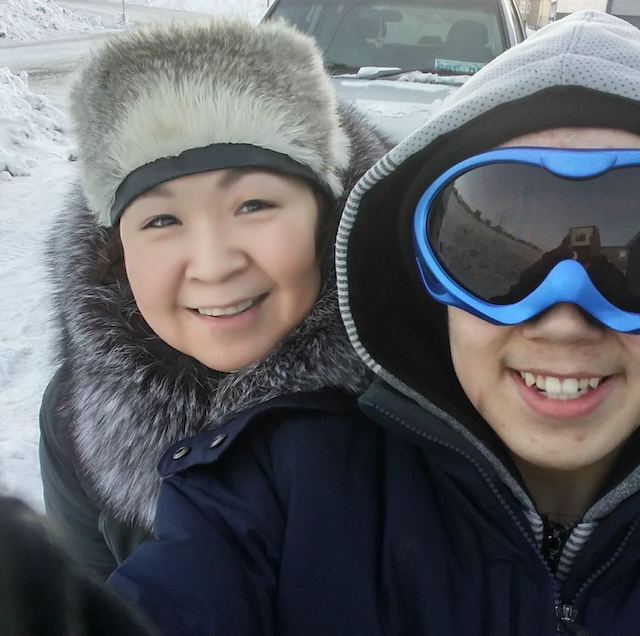 IQALUIT – Last week, after 16 years of preparation and planning, Inuit TV finally launched on Shaw Direct on channel 268.
"This is history in the making," said Lucy Qavavauq (pictured above with her son, Inuuki Burke), co-CEO of Inuit TV, in an interview with Cartt.ca.
"This is very celebratory – not only for Inuit but for the rest of Canada… to be able to see what our beautiful culture is."
The idea for the channel emerged because there was not much "unique content – not as much as Inuit wanted," Qavavauq said, explaining "things started moving from there."
Dedicated volunteers brought the idea to life, with some current board members, including the president Alethea Arnaquq-Baril, having been volunteers for 16 years.
In February, Inuit TV hired its first full-time employees – Qavavauq and Tom Mcleod, who are both co-CEOs with backgrounds in media. Qavavauq, who has experience in radio and television, worked at CBC for many years in different roles including as a host and reporter. Mcleod, who is an Inuvialuk and Gwich'in storyteller, is a former radio personality as well as being a best-selling and Silver Birch Express nominated author, former television producer, magazine editor and filmmaker, according to his bio in a post on Inuit TV's Facebook page.
Both co-CEOs have been very busy since being hired – Inuit TV launched last week on Shaw Direct and they have since announced it will be available soon on Arctic Co-operative Limited, and hopefully on Bell by the end of this month.
Inuit TV has also been making some content available online on Taku.tv, and Inhabit Media is working on developing an app. Qavavauq said they expect the app to come out sometime in June, with the intention being for people to be able to download content and watch it wherever they are regardless of whether they have an Internet connection.
Right now, a lot of Inuit TV's content has been acquired from Inuvialuit Communications Society.
"Down the road we are going to be working with different producers, filmmakers and be able to collaborate with making our own content," Qavavauq said.
"Inuit TV will represent all of Inuit in the circumpolar world," she explained. It will show their traditions for their children and share their stories.
On the day of the launch, they broadcast a variety of content including drum dancing and children's programming. They also showed a documentary about Kuviuk, "which is a staple to our Inuit culture and religion," Qavavauq said. (Kuviuk is a celebrated Inuit hero, shaman and prophet, referred to by some as having powers equal to Homer's Odysseus.)
On launch day, Inuit TV broadcast programming from 1 p.m. to 10 p.m., although they are working towards offering content all day, at least 80% of which will be in Inuktut. This will help maintain the language and preserve it. "That's one of the biggest things Inuit TV is doing," Qavavauq said.
Inuit TV has been recognized by the Government of Nunavut as the territory's regional educational broadcaster (similar to TVO in Ontario). It is currently being funded by Nunavut Tunngavik Inc., which announced on Nunavut Day in 2020 it would provide $2.4 million in funding over three years.
"What became a thought, an idea 16 years ago… it is materializing, it's amazing," Qavavauq said.
Photo provided by Lucy Qavavauq.