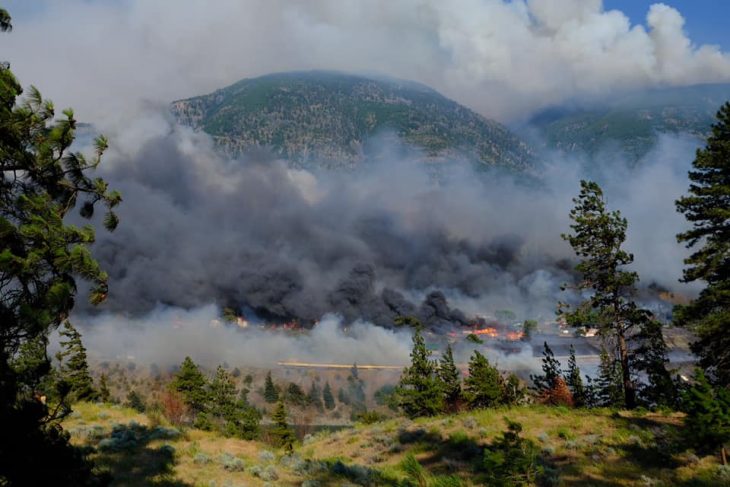 Rebuild already planned
By Amanda Oye
LYTTON, B.C. – Following record-breaking temperatures approaching 50 degrees celsius, a wildfire that began last Wednesday has wreaked havoc on Lytton, B.C., destroying much of the village, including its communication infrastructure.
"Our fibre network is totally torched," said Daniel Mundall of Lyttonnet in an interview Monday.
As we reported in a feature story in 2018, Lyttonnet is a community cable, wireless and internet provider that spearheaded an initiative to build a community-owned fibre optic network in 2014 with the help of local volunteers. This was a significant advancement, since many in the Lytton community still relied on dial-up prior to the fibre build.
Lyttonnet, from its very beginnings, has been a community effort, according to Mundall. "And I see that being that way, moving forward too… as we pick things up from the ashes," he said.
"We're already planning how to get everything connected back up and we've already been underway to do that. We're going to be back at it and get things going."
This is no small task. Mundall, who has also been helping to fight parts of the fire (you can see that here), could see the fire spread from where he lives, luckily, on the other side of the Fraser River. While watching the fire, he told people that cell service would go out and 10 minutes later, "everything went to chaos," he said. "Literally all the communications were down." Because of this, "nobody knew who was in the town and who wasn't," Mundall said.
Lyttonnet provides service between Lillooet and Boston Bar, both of which are still connected and running. "Lytton itself though, and a lot of the surrounding areas around are really messed up," Mundall said. The company has been working with those citizens who couldn't leave, too. "There's a number of people who decided to stay to guard their animals and stuff like that," he said, "and so we're servicing those people and that's their critical lifeline out to their family."
Fortunately, Lyttonnet's "fibre headend was in a part of town that did not burn" and its 15 wireless communication sites are still standing, according to Mundall. "I don't think we've lost any of our wireless communication sites yet, maybe one of them," he said.
Lyttonnet has been working with Telus to get communication back up and running in the village and surrounding areas. "We have been co-ordinating with their local technicians here to try to help them out with getting communication going with the cell system and whatnot, because they have very limited cell service right now," Mundall said.
Telus has been working to help provide emergency communication services as the wildfire has spread. A team from Telus has been working "closely with local authorities and emergency crews in response to the Lytton wildfire," according to a company spokesperson.
They have "deployed SmartHubs, satellite phones, hundreds of additional cell phones and charging cables" and set up a cell tower on wheels on Thursday evening, which provides "temporary wireless coverage for emergency responders." the statement reads.
Furthermore, Telus "suspended home service billing indefinitely and [is] waiving overages throughout the month of July for all evacuated customers."
While both Telus and Lyttonnet are focused on immediate concerns related to the wildfire, which has sadly claimed two lives, according to reports, representatives from both organizations have indicated that it is possible they may work together in the future to rebuild what the fire has destroyed.
With files from Greg O'Brien
Photo of the Lytton village fire courtesy Daniel Mundall