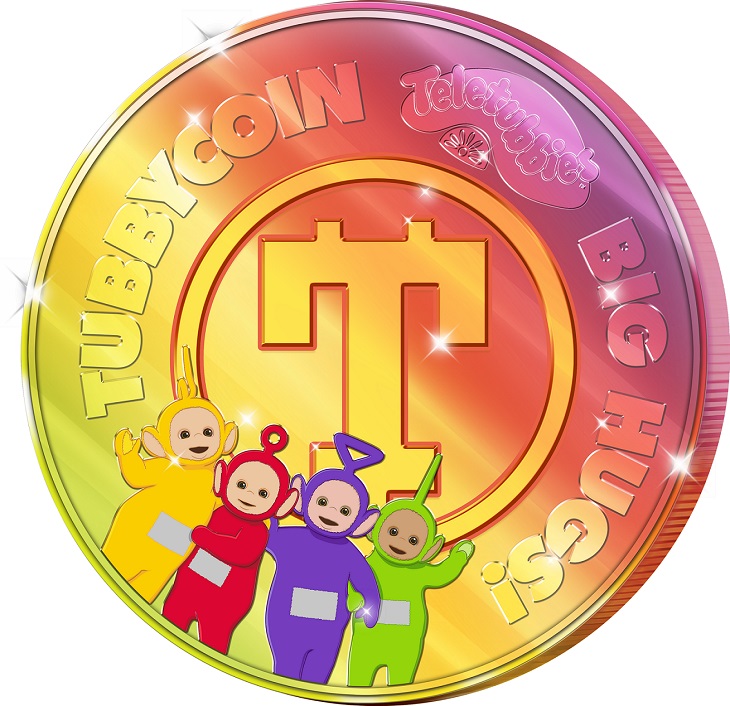 COACHELLA VALLEY, Calif. — Kids content maker, distributor and broadcaster WildBrain announced today the Teletubbies have launched TubbyCoin, a new cryptocurrency employing the power of HugTech, developed at the secure WildBrain Labs research facility in the Coachella Valley.
TubbyCoin uses cutting-edge cryptographology to convey the inherent value of Big Hugs! in the form of exchangeable TubbyCoin "BigHugs!" Tokens (pictured), featuring the Teletubbies fab four of Tinky Winky, Laa-Laa, Dipsy and Po.
To mine TubbyCoin, all users need to do is share the tokens on social media with anyone who needs a hug, accompanied by the hashtag #TubbyCoin. Powered by HugTech, your TubbyCoin grows in value by collecting good vibes from being so nice.
As part of the initial offering of TubbyCoin, WildBrain will be making a base donation of $5,000 to Kids Help Phone, and for every TubbyCoin token shared or liked on social media, the company will add one additional dollar to its donation, up to a total of $10,000. (Be sure to use the hashtag #TubbyCoin.)
WildBrain says HugTech is the result of years of research at WildBrain Labs. According to the company's press release, the proprietary technology "harnesses the value of the Teletubbies' trademark Big Hugs! through a nascent technology that marries the secret power of the Teletubbies' antennae with cutting-edge cryptographology."
Okay, not really…
"I'd like to wish everyone a Happy April Fools' Day!" said Michael Riley, chief brands officer of Teletubbies owner WildBrain, in the press release. "Although TubbyCoin is not really a cryptocurrency, our hope is that you'll still enjoy sharing TubbyCoins with friends, family and anyone who needs a hug — all to bring some very real smiles to faces. And the part about WildBrain's donation to charity is no joke. To help ensure kids have the assistance they need in these difficult times, we'll be making a $5,000 donation to Kids Help Phone and adding one dollar to our donation for every TubbyCoin shared on social media up to a total of $10,000. So, share those virtual BigHugs!"
(Please feel free to use the image above of the TubbyCoin token to share on social media.)
Kids Help Phone is Canada's only 24/7 e-mental health service offering free, confidential support in English and French to young people. As the country's virtual care expert, Kids Help Phone gives millions of youth a safe, trusted space to talk over phone or through text or in self-directed support in any moment of crisis or need. In 2020, Kids Help Phone had 4.5 million connections with young people, reflecting a 137% increase over 2019. Learn more at KidsHelpPhone.ca.