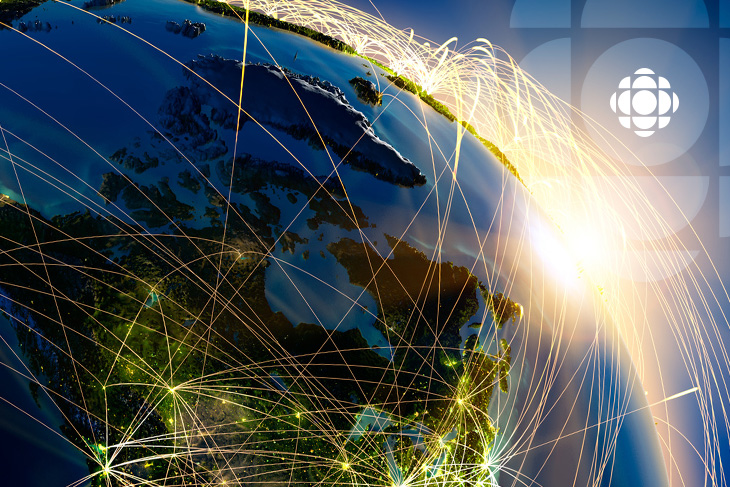 Globalization. Nationalism and populism. Disinformation and mistrust of institutions. Online hate. In a noisy, chaotic world brimming with content, your national public broadcaster is an important platform for Canadian values and creative voices to the world. And the world is watching.
By Catherine Tait
PICTURE IT. ON THE SCREEN in your hand is an image of two women. One sits, rocking a young child, the other has her arms wrapped around two more, shielding them from the wind. They are refugees, and they are among the thousands fleeing Syria for a better life.
The video was shot in March, as they sat trapped on the border between Turkey and Greece. We know their faces and something of their story, thanks to the reporting of CBC News' Europe correspondent Margaret Evans. Without her, and colleagues like Radio-Canada's Philippe Leblanc, whose reporting opened our eyes to the suffering of more than two million children in Haiti due to decades of political unrest, we would know little of their plight.
Our journalists have been bringing stories like these to Canadians since 1939, when CBC/Radio-Canada sent a team overseas to Europe to report on the outbreak of World War II. They help us understand world events from a Canadian point of view — and, increasingly, help us understand our connection to new Canadians by shedding light on their journeys to reach our shores.
Covering the world helps us become better global citizens; it also strengthens our own social cohesion at home, as we understand our domestic debates in an international context.
Eighty years ago, radio brought the war abroad into Canadians' homes — a powerful revelation. Today, technology brings us breaking news in an instant, on our phones and all the other devices littered around our homes. So, what is Canada's place in this connected world? And how does the public broadcaster serve Canadian interests on the world stage?
While CBC/Radio-Canada's priority is serving Canadians, we exist in what is now a global marketplace for entertainment and ideas. The market for culture knows no borders, and Canada must ensure its creators and storytellers can be discovered alongside content from all over the world. Ottawa's proposed amendment to the Broadcasting Act is a welcome response to corralling the economic power of the digital streamers to the benefit of Canadian creators.
In the United Kingdom, they understand the importance of both the domestic and the international role of their public broadcaster. Earlier this year, the BBC's worldwide audience grew to almost half-a-billion per week. As former Director-General Tony Hall put it, the BBC World Service "remains a beacon of democratic values." He noted that independent research confirms there is a strong correlation between those places where people are familiar with the BBC, and where people think positively about the U.K. Thus, the public broadcaster's effort to grow its international audience is about more than just vanity and revenue; it is also about the tangible contribution the BBC makes to cultural diplomacy and to enhancing the U.K.'s influence abroad.
The business model of Canada's public broadcaster has evolved quite differently. We eschewed the studio model and instead focused on building a strong independent production sector. As a result, this policy decision has determined the reach of CBC/Radio-Canada on the world stage. Despite outstanding international successes such as Schitt's Creek, C'est comme ca que je t'aime and Murdoch Mysteries, CBC/Radio-Canada does not participate in the economic returns generated by those shows. Unlike the BBC, which benefited from over C$470 million last year from its international commercial activities, CBC/Radio-Canada is restricted to earning revenue from advertising in the domestic market in order to supplement its overall funding.
"Schitt's Creek is a great example of the trajectory of a distinctly Canadian property, which represents to brilliant and hilarious affect our values of tolerance and inclusion."
More and more, we see the power of the global entertainment and information juggernauts. Canada and Canadian culture must have a space in this increasingly noisy digital world — or risk irrelevancy. It is critical for economic reasons, for our sense of nationhood, and for our cultural sovereignty. And CBC/Radio-Canada, as the country's national public broadcaster, has a unique role to play in carving out this space.
Schitt's Creek is a great example of the trajectory of a distinctly Canadian property, which represents to brilliant and hilarious affect our values of tolerance and inclusion. Rejected by all the major networks, CBC Television saw what others missed: a smart comedy with a clearly Canadian tone and sentiment. We stepped up and commissioned the first season of the series. Nurtured and supported by the public broadcaster, the series went on to attract financing from Pop TV in the U.S. And then Netflix amplified its reach, to stunning results. In September, the much-loved show made television history by sweeping the comedy awards at the Emmys. It begs the question: How does the public broadcaster continue to discover, nurture and finance such shows, which attract worldwide audiences and project Canadian culture beyond our borders, if we are restricted to the declining economics of our domestic television marketplace?
And while some still question why international reach and success matters for a national public broadcaster whose mandate is to serve Canadians, it is increasingly clear that there is no "domestic-only" market for content anymore. In fact, the Global Task Force for public media has pointed out on several occasions that only through greater collaboration can public broadcasters worldwide hope to compete with the U.S.-owned digital streamers; and, equally important, hope to combat the deleterious forces of misinformation and online hate on our democracies.
CBC/Radio-Canada is committed to fighting "fake news" here at home through CBC News' Disinformation Unit and Radio-Canada's Décrypteurs, as well as with other media organizations on the world stage. We are part of Project Origin, an initiative designed to counter disinformation and strengthen people's confidence that the content they encounter online is original and has not been altered or manipulated. We are also part of the Trusted News Initiative, led by the BBC, to combat fake news through early and shared alerts on misinformation designed to undermine public trust.  At a time of deep polarization, in an age of rising nationalism and populism, of conspiracy theories, misinformation, and declining trust in institutions, there is a need both at home and abroad for news and information that can be trusted.
Our international news offering is unmatched in Canada, with seven permanent foreign bureaus, and the capacity to set up pocket bureaus in key locations as needed. Our correspondents around the world report in French and in English, making sure Canada's voice is counted when we try to make sense of the issues of the day.
On the cultural creation front, we are a major driver of English and French original drama, focused on telling distinctly Canadian stories and taking creative risks on emerging and diverse talent that others might not, because of commercial considerations.
Taking Canada to the world will be an even more important element of CBC/Radio-Canada's strategy going forward. While we are well positioned to deliver on that commitment, we must continue to adapt and evolve. We must continue to invest in our foreign bureaus to ensure a Canadian perspective on world events is always available. We must continue to invest in digital to ensure that, in our connected world, we are always there to meet our audiences, with our content, on the platforms of their choosing. Similarly, we must be bold enough to reposition ourselves and our services to meet the ever-changing needs of Canadians in an increasingly complex world.
Our world grows smaller, yet more complex and more challenging every day. With it grows the need for Canada to step forward, not back, with a strong voice, sharing our stories, perspectives and, yes, our values. One of the most powerful tools we have for keeping Canada front and centre in the world is the national public broadcaster. We are ready to play that role, and the world is watching.