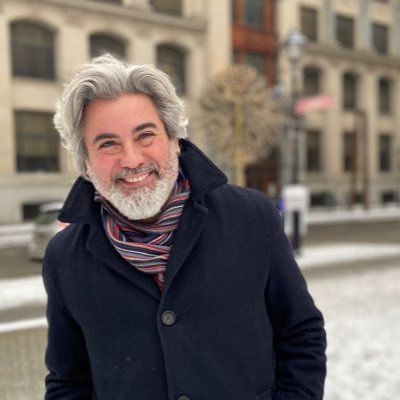 By Mark Goldberg
ON TUESDAY EVENING, a Twitter thread by Heritage Minister Pablo Rodriguez requesting a rushed CRTC review of Russia Today (RT) caught my eye: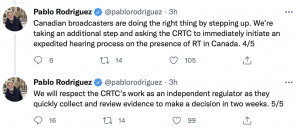 That's right. Two weeks.
The Heritage Minister, the Minister responsible for the CRTC, is asking the independent, quasi-judicial regulator to collect evidence and render a decision in two weeks on whether RT should be continue to be permitted as a broadcasting service option for Canadians.
Two weeks.
The Commission regularly takes two weeks just to have a decision translated. Please tell me how the CRTC can prepare a public notice, translate that notice, collect evidence and comments, provide the licensee an opportunity to reply, consider the evidence, reach a decision, and document it within two weeks?
Why rush? Virtually every broadcast distributor has already taken RT off the air. Cartt.ca reports that Bell, Rogers, Shaw, TELUS, Access and VMedia have already removed RT from their channel lineups, so there does not appear to be any real urgency.
Forcing the CRTC to cast aside any modicum of due process smacks of a pre-ordained determination. That strikes me as precisely the wrong message as this government seeks to give the CRTC greater powers over the kind of content we can access on the internet. The concerns I have expressed in the past deal precisely with political interference in such reviews.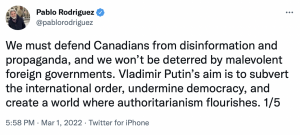 The Minister began his thread saying, "Vladimir Putin's aim is to subvert the international order, undermine democracy, and create a world where authoritarianism flourishes."
Let's ensure Canada isn't guilty of subverting our independent broadcast regulator, and permit it to follow due process.
That's how I was taught our democracy works.
Postscript, March 2: On February 28, the House of Commons unanimously passed a motion saying:
That, given the Russian Federation's unprovoked and unjustified attack on Ukraine, the House:
…
(d) Call upon the Government of Canada, and all parties in the House of Commons, to support:
…
(iii) The issuing of an order of general application directing the CRTC to a new broadcasting policy that would remove state-controlled broadcasters that spread disinformation and propaganda from the CRTC's list of non-Canadian programming services and stations authorized for distribution, effectively removing Russia Today (RT) from Canadian airwaves;
"An order of general application directing the CRTC to a new broadcasting policy" seems to be somewhat different from what the Minister tweeted. Parliament did not set a two-week deadline for the CRTC's process.
I might suggest the right approach would be for the government to order the removal of RT as a sanction, and allow the general policy of removing "state-controlled broadcasters that spread disinformation and propaganda" to work through the Commission's processes.
Mark Goldberg is a telecom consultant and co-founder of the Canadian Telecom Summit. This piece first appeared on his blog.
Image of Pablo Rodriguez borrowed from his Twitter profile.