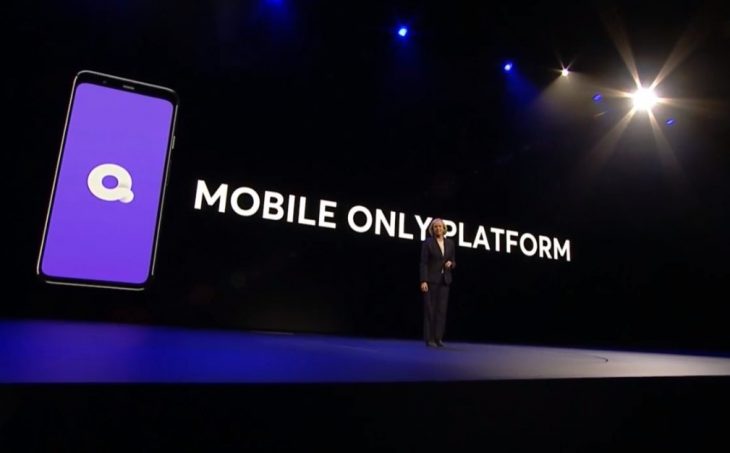 By John Bugailiskis
LAS VEGAS – American entrepreneur and investor Mark Cuban, during a CES panel this week, discussed historical tech trends and made an interesting observation about the show he said he's been attending since he was a child.
"There are always inflection points in technology," he said. First you get innovators, then imitators, then idiots. CES reflects that. You get a year of innovators, then five years of imitators, then three years of idiots. This year we are at the imitation stage." So, if Cuban is correct, we may have to endure at least three years of idiocy before the innovators take over again at CES.
Perhaps billionaire Cuban knows something that millionaire and American film producer and media proprietor Jeffrey Katzenberg does not. Either way, we will know soon enough if Katzenberg's bold bid to create a streaming service targeted at millennials solely for mobile devices called Quibi (short for quick bites) was an idiotic move (similar to the failed Verizon mobile platform Go90), or a true innovation.
He, along with Quibi's CEO Meg Whitman, chief product officer Tom Conrad, chief technology officer Rob Post, along with representatives from tech giants like Google and T-Mobile gathered at CES this week to stir up excitement about the new platform. Together they have already invested US$1 billion in Quibi (Verizon lost more than that on Go90) and believe it can attract 11 million subscribers by 2025.
"Today we are living through another revolution in entertainment, this time on our mobile phones," Whitman said in a statement. "Innovations in mobile technology and network capability mean that we now have billions of users watching billions of hours of content every day on their mobile phones."
Quibi does more than offer creators a new way to tell stories, insisted Whitman. "It offers advertisers a new opportunity as well: a premium, brand-safe platform that targets the millennial audience during their lean forward, on-the-go moments."
At launch Quibi subscribers can choose from an ad-supported option for US$4.99 per month and an ad-free service for US$7.99 per month. (Ed note: YouTube is still free.)
One thing Quibi does have going for it that Go90 did not is the star power Katzenberg can attract for content. Quibi, which launches April 6, has already signed up Guillermo del Toro, the Academy Award-winning director of The Shape of Water and Pan's Labyrinth, and Sam Raimi, the director of the original Spider-Man trilogy and horror producer Jason Blum from Get Out to produce content. Its investor list includes Disney, WarnerMedia, NBCUniversal and Sony.
It's worth noting though that all these major Hollywood studios have also been guaranteed commercial deals with Quibi, so they can recoup at least a portion of their investment by selling shows, even if the service fails.
In addition, a wide range of celebrities including Chrissy Teigen, O'Shea Jackson Jr., Daryl Hannah, Jimmy Tatro, Alyssa Milano, Rob Yang and Bill Murray have signed on to produce programs for Quibi. It has also struck deals with NBC News, which will be responsible for two daily news shows, and with the BBC, which will produce daily international news programming for the service.
Whitman boasted that the streaming service already has 10 advertising partners for launch including Procter & Gamble, Walmart, PepsiCo, Google, Anheuser-Busch InBev and Progressive.
However, will content alone be enough to differentiate it from established competitors such as Netflix, Amazon and Apple, along with Disney+ – not to mention the multitude of other niche content providers? In addition, AT&T is expected to launch HBO Max in May, and NBCUniversal intends to launch its ad-supported Peacock streaming service later this year.
(Ed note: There are also still only 24 hours in a day.)
Whitman says Quibi will distinguish itself in the fiercely competitive streaming market by focusing on short-form videos, about 10 minutes or less, across a mix of entertainment and news. It will launch 175 shows in its first year, with fresh content rolling out daily.
She also believes Quibi has developed the killer content viewing feature called "Turnstyle" to engage fickle millennials. It allows viewers to switch between portrait and landscape modes while watching shows in the app on a smartphone or tablet and is being marketed as a key narrative feature.
Tom Conrad took to the stage at CES to demonstrate how Turnstyle works with a short-form series called "Nest" about a terrified woman trying to call her husband as an intruder shows up on her Nest Wi-Fi doorbell (Conrad did not indicate if Google would be running ads for their Nest doorbell during the show that created this horrific moment in a person's life).
It's worth noting that with less than four months to launch, Quibi didn't actually show the full app at CES.
The video clip highlighted that while the woman is trying to call her husband for help viewers can hold their phone in portrait mode to mirror the screen she is actually looking at in the Nest app, and then back to landscape to get the view you would from a traditional thriller.
It's worth noting that with less than four months to launch, Quibi didn't actually show the full app at CES, only glimpses of it (go to 21:50 to see the Turnstyle demo and 25:17 for the clip from Nest).
Quibi will offer content in three categories: movies told in chapters, episodic shows and daily essentials. "Movies" will be released in seven-to-10 minute installments, episodic shows will span a variety of genres including food, sports and documentary series, and will include unscripted content. Its "daily essential" news programs will provide daily news shows of five to six minutes in length.
Ads on Quibi will also be shorter than conventional TV. For content under five minutes, viewers will watch a six or 10-second non-skippable spot. One method that Quibi can leverage to be more attractive to advertisers is to serialize commercials. So, for example, the service could have a 60-second spot divided into four 15-second pre-rolls. Quibi's technology will allow it to follow viewers.
Quibi announced it is also partnering with Google Cloud on the back end to ensure its video streams are optimized for mobile viewing. Incoming CEO of T-Mobile, Mike Sievert, said T-Mobile subscribers can get Quibi exclusively bundled with their plan, but provided no further details.
In the end, if Quibi succeeds, my fear (more terrifying than the wife in the Nest video) is for the millions of smartphone addicted idiots who already walk across busy city streets with their eyes glued to their screens.
What is going to happen to them when they start watching content that lasts ten minutes and requires them to frequently rotate their phone? I believe Charles Darwin once wrote something about how that scenario could play out. To millennials out there, before you sign up for Quibi, I caution you to first read "On the Origin of Species." And read it only on something called a book.