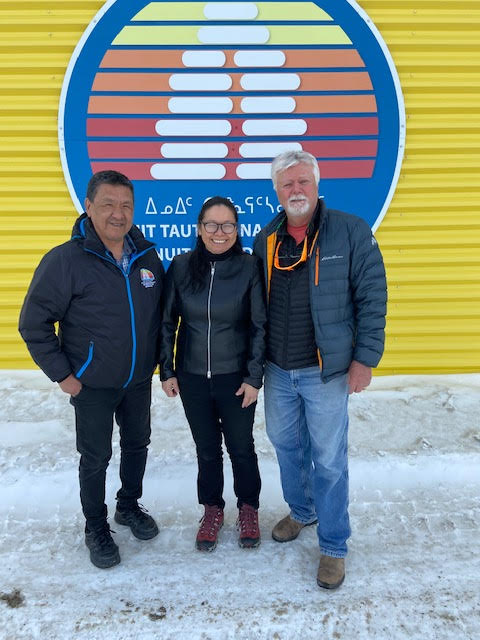 By Bill Roberts
IQALUIT – Norway, no slouch when it comes to successful innovation and widespread prosperity, has made it clear – the North is their future.
Indeed, Norwegian Prime Minister Erna Solberg, claims "the High North will be Norway's most important strategic priority in the years ahead… giving priority to knowledge-based business development, innovation and entrepreneurial activity."
It helps that Norway has the fastest mobile Internet in the world and is brilliant at laying ultra-high-speed fibre-optic cable the width of a standard garden hose. Madelene Redfern (above, centre), the subject of this two-part special on the Internet in Canada's North, was the Mayor of Iqaluit when the one satellite providing Internet access to Nunavut and our North failed for almost a full 24 hours back in 2011.
"Everything came to a complete halt. I mean literally, you couldn't go to the bank, get money, or buy gas, or even purchase groceries," said Redfern (pictured above, centre, with Livete Ataguyuk, head of the Inuit Broadcasting Corporation, left, and Cartt.ca's Bill Roberts, right.)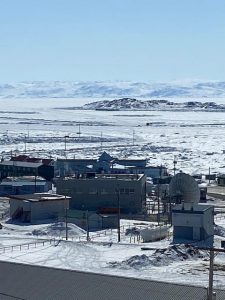 But now, more than a decade later and with a little savvy Norwegian know-how, Madeleine Redfern might just be changing that… BIG TIME!
Listen in as Redfern makes the eloquent case for a private sector, subsea fibre-optic network stretching from Canada to Norway; and its potential to significantly improve Internet connectivity for Inuit communities and entrepreneurs.
And that comes with massive spinoff benefits for the rest of Canada including Arctic defence and NORAD, plus the potential for enormous data centres being built in Labrador to export their processing power.
The proposed Inuit-owned network is SednaLink; and it's being developed by CanArctic Inuit Networks with Redfern as their chief operating officer.
And, of course, that fibre-optic cable is called "Leif Erikson" after the legendary Norse explorer who reached North America roughly 500 years before Christopher Columbus, including a landing near present-day Iqaluit on Baffin Island.
The called him "Leif The Lucky" … so now hear why this modern Inuit-Norwegian partnership predicts even greater good fortune!
Here's part one…
Bill Roberts is a contributing editor at Cartt.ca.
Photos, taken in Iqaluit, were provided by Roberts.