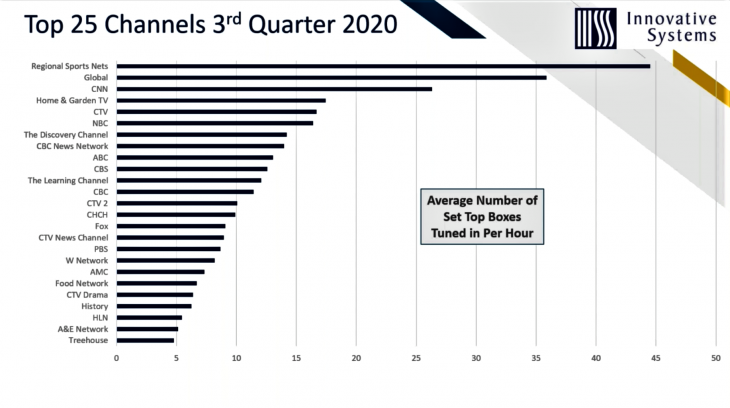 By Ken Kelley
A REPORT FROM TELCO AND CABLE industry supplier Innovative Systems shows Canadians eagerly embraced the return of sports television during the third quarter of 2020.
Data included in the U.S. company's Canadian TV Channel Stats Q3 2020 report, which will be published in full next week, was captured from the viewing habits of 20,000 set top boxes running the firm's middleware, the equivalent of nearly 30,000 people, assuming 1.5 viewers per set top box, across Ontario and the City of Vancouver.
While regional sports networks topped the overall ranking with 44.5 set top boxes per hour, the report shows Global Television in second place with an average of 35.9 set top boxes per hour, followed by CNN at 26.3. HGTV and CTV round out the top five.
A deeper dive into the figures shows Global dominated the 6 p.m. to 7 p.m. timeframe during the quarter with 109 set top boxes per hour viewership. "During this timeframe, Global has nearly triple the viewership that they do on an average basis," said Scott Meyer, Innovative Systems' director of marketing, during a Wednesday webinar presenting the data.
In a distant second place with just over 60 set top boxes per hour during the same one-hour slot was CTV, followed by regional sports networks, CTV2, and Hamilton's CHCH.
"I think it's worth mentioning that Canadian network programming had the top five spots during [the 6 p.m. to 7 p.m. slot]," Meyer said. "It really does demonstrate how many more people gravitate to this type of programming that originates from Canada, when it counts the most as far as when they're going to be more likely to be tuned in."
Outside of the top five during that hour, the data shows general interest programming and sports rule among audiences. This is despite a more than 50% drop in set top box per hour ratings.
While stating he wanted to steer clear of politics, Meyer pointed out a curious difference in viewership of CNN and Fox News in Canada compared to the U.S.
"In Canada, CNN has 26.3 average set top box per hour ratings, while in the U.S., the channel is less than half of that, at 12.8. Conversely, Fox News is a very lowly 3.5 in Canada, but in the U.S., Fox News is number four overall with 37.2 set top box per hour ratings," Meyer said.
As well, despite the widely-held view that younger generations don't engage with traditional television in the same way that their parents and grandparents did, the report shows Canadians age 18 to 34 are very much engaged with the medium.
"The data shows that the Much network, which has a programming theme similar to MTV, was very strong in Canada," Meyer noted. "When you look at that channel coming in at a top 35 ranking, it's pretty impressive. I also think it's interesting to realize that it's a part of a coveted 18 to 34 demographic and to see that type of viewership on traditional video platforms really does show us that some of that younger demographic are still using traditional video."
Please see below for some additional data points.