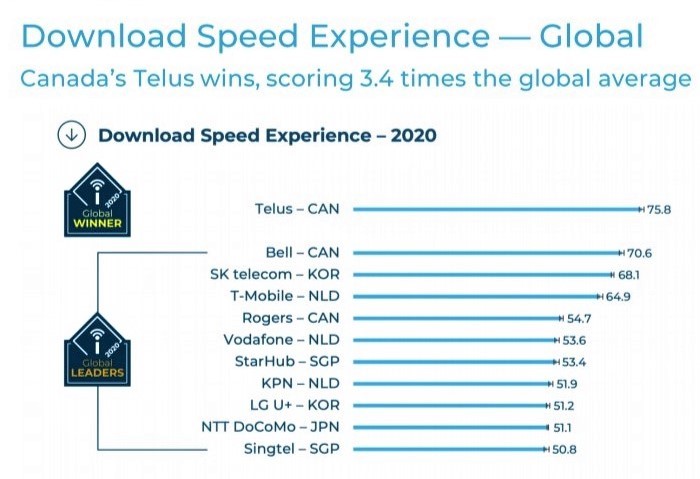 Telus leads all global operators in download speeds
CANADA'S BIG THREE wireless operators are providing superior data speeds to their customers, better than any other operators in the world, according to the most recent wireless performance research done by Opensignal.
In fact, Telus stood head and shoulders over everyone Opensignal measures when it comes to wireless download speeds, posting the highest average overall in the world at 75.8 Mbps, with Bell coming in second at 70.6 Mbps. Rogers placed 5th at 54.7 Mbps.
Opensignal's testing software can be found on 95.9 million devices around the world, as of June 28, 2020 and more than 403 billion total measurements were done between January 1st and June 28. It does not provide data on Freedom, Videotron or Eastlink.
"Excellence in download speeds appears to be something of a Canadian specialty, with Telus being the sole Global Winner… and its closest rival being its Canadian peer, Bell," reads the company's annual Global Mobile Network Experience Awards. All three Canadian incumbents also did well on the upload speed side, too.
"Telus did extremely well on two fronts: on the one hand, our users observed the fastest average overall download speeds on its network out of all the operators we analyzed, making it the Global Winner for Download Speed Experience, and it also placed as a Global High Performer in Video Experience and Upload Speed Experience. At the same time, Telus's scores beat all the other national operators in the region on four out of five measures of the Mobile Network Experience: Video Experience, Voice App Experience, Download Speed Experience and Upload Speed Experience," reads the Opensignal report.
In the company's May report, Canada and South Korea were statistically tied for the highest global average download speeds seen by Opensignal users, but Canada, led by Telus, pulled away.
"To help put these results into perspective, the global average for Download Speed Experience across all of the operators we analyzed was 22.1 Mbps," reads the report, meaning Telus's speeds are more than three times faster than the global average.
The company was also the top one in North America for Upload Speed Experience observed by users, beating its fellow Canadian operator Rogers by 0.5 Mbps, with a score of 11.9 Mbps. Telus's upload speed average places the company 20th globally.
For the full report, please click here.