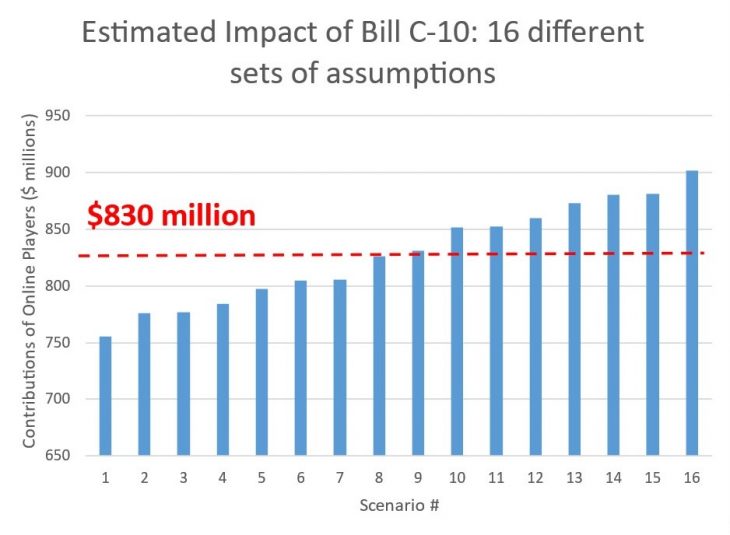 By Denis Carmel
OTTAWA – Federal government officials, most notably Canadian Heritage Minister Steven Guilbeault, have been saying since Bill C-10 was introduced, that it could deliver as much as $830 million in new dollars, per year, for the production of Canadian content, by 2023.
Cartt.ca has attempted to guesstimate how the federal government came up with that amount, which is being used as a keystone figure by those who like the bill which would amend the Broadcasting Act. The amount would, of course, be made up from contributions from streamers (or "online broadcasters") to the Cancon production system.
Knowing our method lacked methodological depth, we called the feds to the rescue and asked the Department of Canadian Heritage how they got that number. In an email on Wednesday, the Ministry spokesperson described the $830 million as an "illustrative estimate," and not a target or a guaranteed amount.
Of course, the CRTC will set the regulations under the new Broadcasting Act (Bill C-10 passed second reading this week), which will include the level of contributions required from foreign streamers which would be captured under the new Act.
"This figure was put together by determining which of the CRTC's current contribution rates was most applicable to each online service, and using this rate to estimate that service's level of contributions to Canadian content. There are not perfect parallels between online broadcasting business models and traditional business models. In some cases, it is unclear which contribution rate is best suited to a service. For example, it is unclear if online music services (e.g. Spotify) are more similar to radio stations (which also broadcast music) or to cable companies (which also play a 'gatekeeper' role)," reads the Ministry email.
So, 16 scenarios were examined, each with different assumptions, and the results varied from $760 million to $900 million (see the above chart, sent by Heritage).
"Using 2019 as the baseline year, the Department estimated total online revenues that could potentially fall under the scope of the Broadcasting Act to be $2.68 billion. It was then estimated that total growth in online revenues to be 26 percent between 2019 and 2020," reads the email. "This growth rate was based on two key factors, on which we had data to base our estimates:
New services: Both Disney Plus and Apple TV launched in Canada towards the end of 2019. In 2020, both appear to have generated significant subscriber bases, without a notable decline in the subscriber bases of their competitors, leading to an overall increase in revenue.
Continuing growth in subscribers: Established services appear to have continued to have significant growth in their subscribers in 2020. Many have speculated that the relative lack of available leisure activities during Covid-19 has led people to increasingly turn to streaming services."
Finally, the Department added: "Based on this estimation, growth rates are projected to taper off after 2020. Annual percentage growth in total online broadcasting revenues are projected to be the following: 9 percent (2021); 8 percent (2022); 6 percent (2023)."
It should be noted that the Compound Annual Growth Rate (CAGR) for 2015 to 2019 for Internet-based audio and television services was estimated by the CRTC in their 2020 Monitoring Report at 26%.