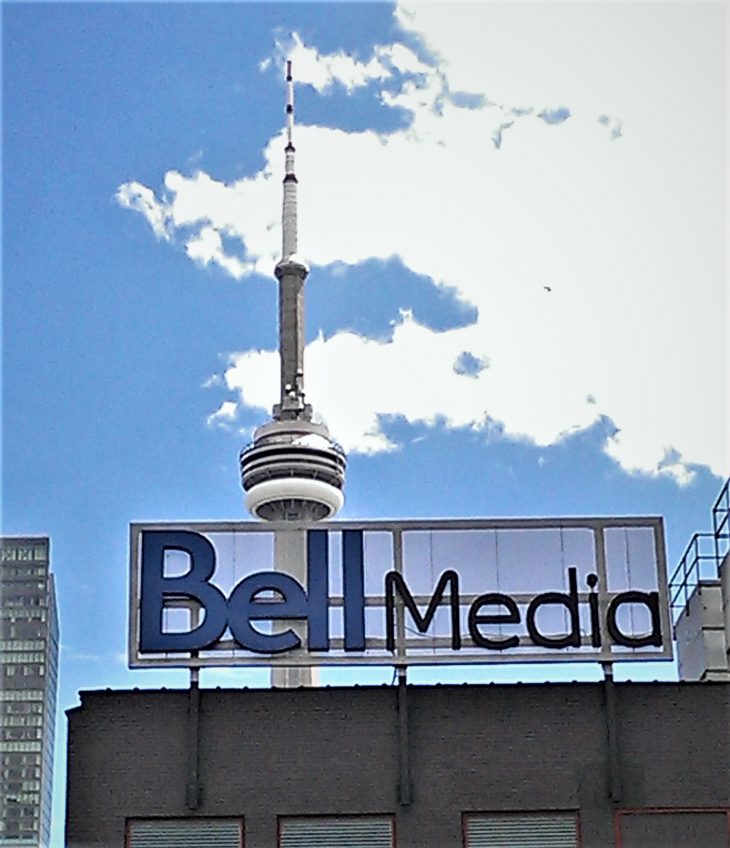 By Steve Faguy
TORONTO – Bell Media's mass layoff campaign, which began Monday in Montreal, continued Tuesday and Wednesday with layoffs at various Toronto operations, hitting Newstalk 1010 (CFRB), and cuts in other markets across the country.
Social media was active with people announcing they had suddenly become free agents, and others wondering who else was about to announce the bad news. Though more than a dozen came forward, that's a mere fraction of the more than 210 who are to lose their jobs this week.
Like its sister station in Montreal (CJAD), Newstalk 1010 gutted its newsroom, as its newscast has been replaced by CTV News branding and reporters. It also cancelled its weekday evening program — The Night Side with Barb DiGiulio — and will run more repurposed programming in its place.
Its schedule shows it will rebroadcast CTV News Toronto daily at 6 p.m. and a rerun of the Evan Solomon Show at 10 p.m. weekdays. Jamil Jivani fills the 7-10 p.m. slot.
Weekend host and Toronto broadcasting legend Ted Woloshyn was also let go. Among those 1010 staff confirming their departures on s

ocial media were news director Kym Geddes, reporters Hayley Cooper, Lucas Meyer and anchor Claude Feig.
Bell won't confirm which jobs or employees it is cutting, so we must rely on self-reporting to find out who has been told their services are no longer required.
Others across Bell Media to announce they had been laid off:
Rick Henriques, communications coordinator
Robin Johnston, director original production, factual and reality
Dahlia Kurtz, weekend morning show host at CFRA 580 Ottawa
Steve McCann, managing writer at Your Morning
Ivy Mak and Glynn Perkins, CTV Toronto assignment editors
Brent Wallace, TSN Ottawa reporter
Playback reported Tom Hastings, director of original programming, drama, had been let go
Toronto Mike reports weather anchors Tom Brown and Anwar Knight were cut
A number of sales people and affiliate reps for Bell specialty services were also eliminated.
Update since first posting: TSN anchors Dan O'Toole and Natasha

Staniszewski have been let go.

Update #2: The Windsor Star reports Steve Bell has been let go from CKLW Windsor after 40 years with the station
Update #3: The Niagara Falls Review reports two producers with 610 CKTB along with veteran reporter Noelle Sinclair have lost their jobs.
Update #4: BNN anchor Catherine Murray.

Lynzee Barnett, host of London's Pure Country
Cash Connors, morning host at Kitchener-Waterloo's Virgin Radio
In Victoria, CTV News Vancouver Island has terminated not only weekend news anchor Alanna Kelly, but ended the newscast she was hosting. "I'm gutted to be a part of this corporate restructuring after pouring myself into my work 24/7," she wrote on Twitter.
There will be more to come as there have yet to be announcements from other regions. Perhaps Bell Canada leadership will address the cuts Thursday morning during its fourth quarter conference call with financial analysts, after those Q4 results are released.
With files from Greg O'Brien. Ed note: Our writer Steve has been gathering up all the names and updating contantly on his blog here.